Anishinabek Nation's Final UNDRIP Engagement Session Explores Social Issues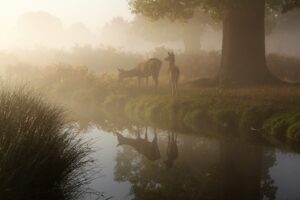 ANISHINABEK NATION TERRITORY— The Anishinabek Nation Legal Department continues to house its United Nations Declaration on the Rights of Indigenous Peoples (UNDRIP) Act virtual engagement sessions with the second in the series held July 26.
Anishinabek First Nations leaders and citizens were invited to participate in the Waawaashkesh (Deer) Dodem (clan) session exploring themes on UNDRIP and discussing priorities, including but not limited to the social development, child welfare, child welfare and other social issues.
An introduction to UNDRIP was discussed, then the Waawaashkesh (Deer) Dodem session was led by Anishinabek Nation Legal Counsel Leanna Farr. The roles and responsibilities of the Waawaashkesh (Deer) Dodem were discussed, including an explanation of how the dodem is guided by the matriarchs within the community. It was noted that social issues involve a wide range of intersecting issues such as poverty and homelessness, child welfare, welfare and unemployment, domestic violence, gender equality and many more to name a few. Traditionally, the overall well-being of the Anishinabek Nation First Nations community is achieved through ceremonies and social activities that bring communities together in positive social ways.
Participants expressed concerns about how First Nations children who require specialized services (i.e. autism, trauma, fetal alcohol spectrum disorder, addictions, mental health, etc.) face challenges and barriers to receiving these services, despite the implementation of Jordan's Principle since 2016. Concerns have also been raised about First Nations youth leaving child care without supports to reconnect youth to their First Nation or culture. A participant also suggested that more emphasis should be placed on alternative prevention services that keep children safe and connected to families and their First Nation. For example, too often Aboriginal children are removed from their homes due to the neglect issues cited; however, neglect is deeply rooted and stems from poverty. Rather than addressing the root of the problem, a child is removed from home, creating additional challenges for the child, the family and social systems. There is a need to update how child welfare investigations use neglect and poverty as a means to remove and apprehend children and fail to provide preventive services to help tackle at the root of these problems. It is a temporary solution with lasting, often permanent effects. There were also many mentions of funding gaps between 'on-reserve' and 'off-reserve' members and how funding gaps create division and conflict. Other issues noted include the fact that Ontario has ordered an end to birth alerts, which heavily target Indigenous demographics, but recent news indicates that birth alerts are still ongoing, even after two years in office. of termination.
First Nations child welfare issues across Canada have changed and evolved over time, and as Anishinabek First Nations continue to move forward and use UNDRIP Act, there will be continuous change and positive movement. Currently, the new Canadian UNDRIP legislation (Bill C-15) is already being implemented in many other federal and provincial laws, especially with respect to social issues such as child protection. For example, in 2018, the province of Ontario adopted the Child, Youth and Family Services Act (CYFSA). CYFSA references UNDRIP and the UN Convention on the Rights of the Child in its preamble and Part II regarding the rights of children receiving services and the rights of children in care. On June 21, 2019, Bill C-92: An Act respecting Inuit and Métis children, young people and their families, received Royal Assent. The preamble and purpose of this new federal Indigenous child welfare legislation also reflect Canada's commitment to implementing UNDRIP within its laws. Although child welfare has been primarily a matter of provincial jurisdiction, federal funding has been implicated and discrimination and inequities in federal funding for child and family services on reserve have been recognized by the Canadian Human Rights Tribunal in Caring Society v. Canada. A long-term reform of federal funding for First Nations child and family services and Jordan's Principle has been ordered by the Tribunal and negotiations for a final resolution of these issues are currently underway.
The Anishinabek Nation encourages Anishinabek Nation First Nation leaders, staff and citizens to help change Indigenous history and pave the way for a better path forward for future generations. Citizens are invited to attend upcoming virtual sessions to provide critical feedback and/or questions related to key aspects of UNDRIP. The Anishinabek Nation will welcome any comments provided on what the Anishinabek would like to see in Canada's 10-year action plan and what changes need to be made to federal legislation over the next decade. A report will be submitted to the federal government outlining the comments and identifying priorities for necessary federal legislative changes.
The next virtual engagement session will take place on August 10, featuring the Migizii (Eagle) Dodem, which involves discussions on education, culture and language, and other issues.
Other upcoming sessions include:
August 24, 2022: Ajijaak (Crane) Dodem – Family Relations, Matrimonial Real Property (MRP) and Youth;
September 7, 2022: Shiikenh (turtle) Dodem – justice and criminal law;
September 21, 2022: Maang (Loon) Dodem – Equality and discrimination, wills and estates, employment and labour, human rights; and
October 5, 2022: Mukwaa (Bear) Dodem – Health, police, military and other issues.
If you or someone from your First Nation would like to participate in these sessions or would like to request a separate session, please contact the Anishinabek Nation Justice Manager, Kristy Jones: [email protected] Registration for virtual engagement sessions available here.