DRCVI and its partners offer a series of trainings during the national awareness month for the employment of people with disabilities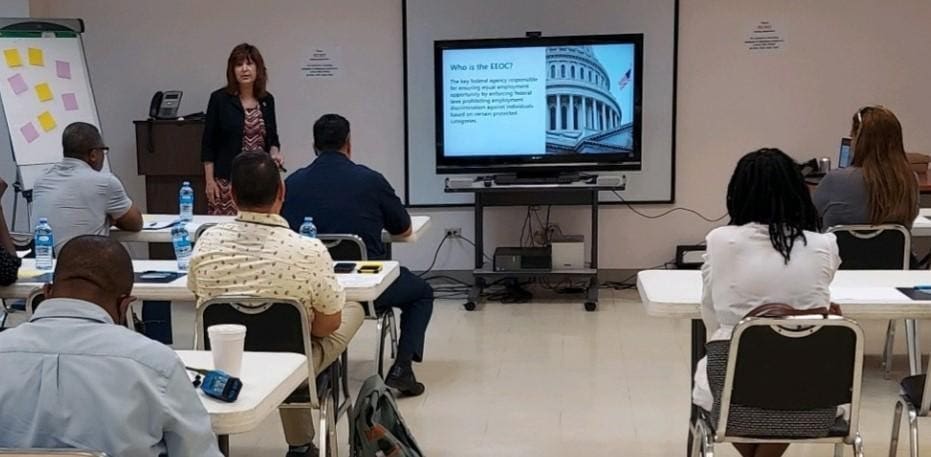 October is National Disability Employment Awareness Month (NDEAM), which celebrates the contributions of people with disabilities in the workplace and educates employers about equity and diversity. The United States Department of Labor's Office of Disability Employment Policy (ODEP) created the theme, and this year it is "Disability: Part of the Equity Equation ".
The Disability Rights Center of the Virgin Islands (DRCVI) is spearheading events this year with several partners, including the Virgin Islands Economic Development Authority, the University of the Virgin Islands Center of Excellence for Developmental Disabilities at the University of the Virgin Islands (UVI VIUCEDD), Virgin Islands Small Business Development Center (VI SBDC), Governor's ADA Coordinator, Island Therapy Solutions, VI Division of Disabilities and Rehabilitation Services (VIDDRS ) and the Virgin Islands Department of Labor (VIDOL).
This employer partnership group was created in July 2020 to celebrate the 30th anniversary of the Americans with Disabilities Act (ADA) and continues throughout the year with quarterly events in partnership with the Federal Equal Employment Opportunity Commission (EEOC), Miami office.
"A strong workforce is the sum of many parts, and disability has always been a key part of the equation," said Assistant Secretary for Disability Employment Policy Taryn M. Williams.
National Disability Employment Awareness Month events will take place the week of October 24th. DRCVI and its partners invite the community to the following workshops:
Bill Sanchez, San Juan EEOC office manager, will be the guest speaker for the employer training. Additional speakers include:
Shayne O'Rourke-Testa, Program Director for VI Supported Employment Specialist, a division of Island Therapy Solutions
Kimberly Washington, Acting Administrator, Department of Human Services, VIDDRS
Shammi Carr, Lawyer, DRCVI
Shelley Timmons, DPT, ATP, Associate Director of Clinical Development Research and Grant Writing, UVI VIUCEDD
An additional online event, titled "NDEAM Employer Recruitment Roundtable," will be held for job seekers with and without disabilities in partnership with the VI Department of Labor on Wednesday, October 26, from 11:30 a.m. to 1 p.m. via Zoom on :
https://us02web.zoom.us/webinar/register/WN_OEtAbLXiQjmiCeQ3g49y5Q.
During the Round Table, several employers will talk about their recruitment process and employment opportunities in the region.
Request for disability accommodation to participate must be made 10 days prior to the event to Shammi Carr, DRCVI Lawyer at 776-4303 or [email protected]
To register for any of the events mentioned above, email [email protected]