Missoula Children's Theater Workshop returns to Bradford this summer | News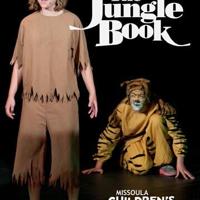 BRADFORD, Pennsylvania — It's been three years, but the little red truck is coming back to Bradford, as the Arts in Education Committee of the Bradford Creative and Performing Arts Center announced the return of Missoula Children's Theater Workshops with this year's presentation from "The Jungle Book."
The workshop will take place June 20-25 from 8 a.m. to 12:30 p.m. each day. A public performance will take place on Saturday, June 26 at 2 p.m.
The workshop and performance will take place at St. Bernard's Auditorium and Education Center on East Corydon Street in Bradford.
"We're thrilled to bring MCT back to Bradford, and we're excited about some of the changes and additions to this year's program," said Connie Shanks, President of BCPAC Arts in Education. "This has always been a highlight for the theater kids in our area and we look forward to the arrival of the MCT team in their little red truck, filled with wonderful sets, costumes and props for the kids to enjoy. live an incredible week of theater," said Jarrets.
One of the new changes to this year's workshop is the easy online registration process. Parents can go to bcpac.com on April 15 to register their child by simply clicking on the Arts in Education tab and filling in the information. There is a non-refundable, non-transferable $100 workshop fee per student, unless otherwise specified by CAVCO.
If parents do not have the option to register online, they can always stop by the BCPAC office at 119 Main St. in Bradford to register their child. Payment is due upon submission of the registration form.
The workshop has limited space, so it is important that students register early. Participants are accepted on a first-come, first-served basis, and the workshop fills up quickly.
"That's the good part about online registration this year," said CAVCO CEO Darren Litz. "Registrations are received in real time, so once you click the submit button, your information will be processed and we will no longer have to wait for forms to be received in the mail."
The workshop is available for students entering grades 1-8 in fall 2022. A total of 16 places for children up to age 7 and 44 places for students ages 8-14 will be selected in each age range for the show. Additionally, MCT is looking for four students interested in helping out as Assistant Principals, ages 12-14. There will be a total of 64 places in all.
Bursaries are available to help cover the cost of the workshop for students who are recommended by their music teacher and who qualify. Students should consult their school's music teacher for more information. A recommendation from the teacher is required to apply for a scholarship. All scholarship applications must be returned to the CAVCO office no later than 5 p.m. on April 13. Applications after the deadline will not be considered.