Non-Profit Spotlight: Student Keeps Grandmother's Memory Alive with Suicide Prevention Organization | Lifestyles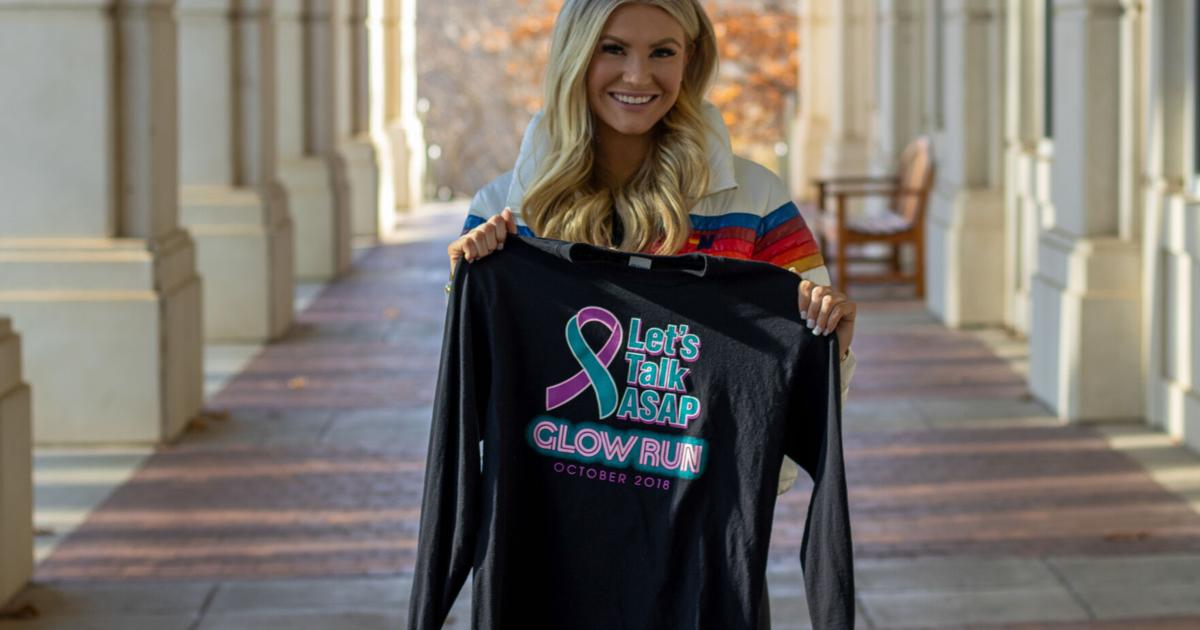 Phoebe Harris and her grandmother were practically tied at the hip.
The couple lived right next to each other in Paragould, Arkansas. They went to the nail salon together every week. Whenever Phoebe was on the court playing basketball or volleyball, Cindy Harris – or Mena, as Phoebe called her – was always there.
"A lot of people say they remember her walking into our ratchet gyms with a long fur coat," Phoebe said. "She was just really awesome, and she never missed a thing."
As striking as Cindy is, beneath her vibrant red hair and unwavering love for her grandchildren, she's struggled with mental illness, Phoebe said. Phoebe once noticed bleach stains on Cindy's carpet, which she later learned were in efforts to cover up the bloodstains from self-harm incidents.
Phoebe knew something was wrong, but she didn't know the full extent of the problem because Cindy made a front for her grandchildren, she said. But in the middle of the night of August 13, 2015, Phoebe's father – Cindy's son – received a call with the news: Cindy had committed suicide.
"My dad ran out of the house, and I went over there to my mom, and I was like, 'She did, didn't she?'" Said Phoebe. "Because there had been so many times she had tried or threatened and I kind of knew. It was a really strange feeling to know that was what had happened.
Phoebe, then 13, now a sophomore at UA, wondered: why? But rather than curse the darkness, she chose to light a candle.
In her eighth year, Phoebe began researching suicide statistics, and one number stood out for her. Among people aged 15 to 24, suicide is the second leading cause of death in Arkansas and the United States, according to the Centers for Disaster Control and Prevention.
"It really hit me, because it meant I more than likely ran into someone in the hallway every day who was planning to kill themselves," Phoebe said.
Phoebe started planning and growing a charity, which she called Let's Talk ASAP (About Suicide Awareness and Prevention). In its ninth year, the project came to fruition.
Phoebe began speaking to various groups within her community – from civic organizations to elementary school classes – about the importance of maintaining good mental health habits. She visits schools a lot because the primary and secondary school years are when mental health issues tend to appear for the first time, she said.
After a visit with a grade six English class, one of the students approached Phoebe. She told Phoebe that her father had recently died by suicide and that she herself had been having thoughts of suicide.
"It was the first time it was kind of like 'Okay, I'm doing this for a reason,'" said Phoebe. "Even though these conversations make you uncomfortable and can be difficult, I knew at the time that I was going somewhere with this."
In addition to her speaking engagements, Phoebe hosts an annual fundraising run in September, which is National Suicide Prevention Month. Although COVID-19 has forced this event to go virtual for the past two years, it means a lot to Phoebe as she can see the community's support for her cause. In a typical year, the race attracts over 200 participants.
Although Let's Talk ASAP is not officially registered as a 501 (c) (3) tax-exempt nonprofit, Phoebe donates all of her fundraising profits to nonprofits. more important, notably the Jason Foundation and the Alex Blackwood Foundation for Hope. To date, she has raised over $ 30,000.
The Jason Foundation is named after Jason Flatt, who was 16 when he committed suicide in 1997. The organization seeks to prevent youth suicide "through education and awareness programs that empower young people. , educators / youth workers and parents the tools and resources to help identify and support at-risk youth ", according to the foundation.
The Jason Foundation is one of seven nonprofits that make up the National Council for Suicide Prevention, but any help from smaller organizations such as Let's Talk ASAP is invaluable, said Brett Marciel, communication director of the foundation.
"It will take more than us to tackle the problem of suicide among youth and young adults," said Marciel. "We are therefore more than willing to work with any organization that wishes to contribute to the pursuit of our mission. "
Steven Blackwood founded the Alex Blackwood Hope Foundation in 2008, after his son, the namesake, committed suicide at age 19. Blackwood has worked with countless people in Arkansas and the United States, but noticed something unique about Phoebe and her efforts when she invited him to speak at an event. in 2017.
"There was something special about the passion that was there," said Blackwood. "Not just with Phoebe, but the people who were there to support her. It was clear that they knew her story and respected her story and recognized and recognized the need to be sensitive and responsive to those who may be in. difficulty.
When Phoebe donates funds for a run, Blackwood said he makes sure to direct them to suicide prevention efforts in Arkansas school districts.
"It's people like Phoebe who are going to have to keep raising the bar, and we certainly stand behind her 100% in her efforts," said Blackwood. "And I'm very encouraged that she has carried her message beyond the high school campus and onto the college campus."
Although the pandemic has kept her from fully reaching her goal of expanding in Northwest Arkansas, Phoebe has kept Let's Talk ASAP active through virtual conversations. Eventually, she would like to speak in person to groups in the area and host an annual run, as she does at home.
"One thing I promised myself when I first started is that I wouldn't stop doing it when it wears off a bit," said Phoebe. "When a few years go by and it's not as relevant to me, (it) doesn't mean it's irrelevant to someone else going through the same emotions."
People struggling with thoughts of suicide or self-harm can call the AU Counseling and Psychology Hotline at 479-575-5276 or the National Suicide Prevention Lifeline at 800- 273-8255.