Philly's Fabric Workshop hosts Jayson Musson's art history 'sitcom'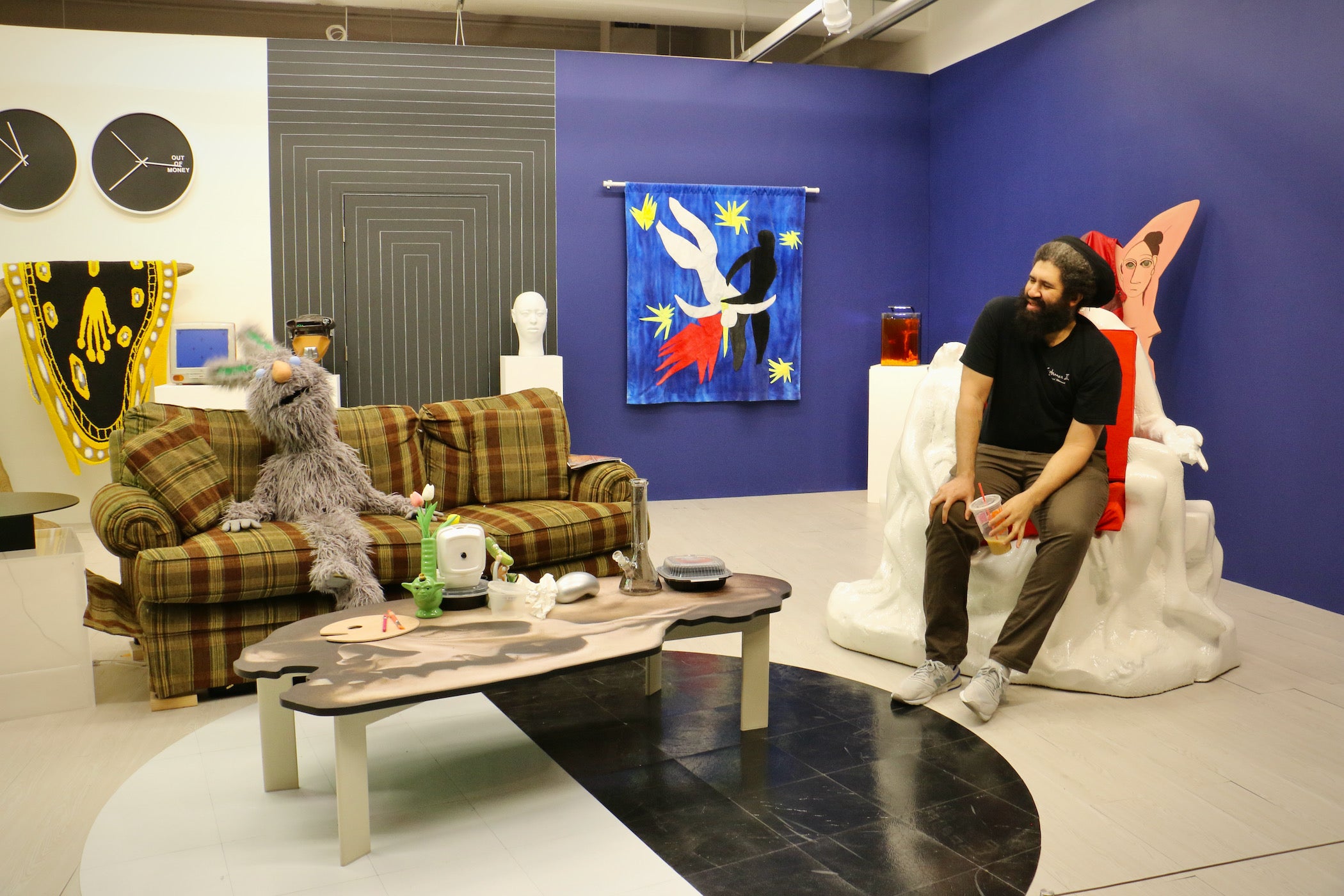 The exhibition is both informed and critical of art history. The first episode is a cautionary tale about the use of artistic iconography to establish religious and political power. The second episode brings the prehistoric figurine to life, "Venus of Willendorf,"probably depicting a fertility goddess carved in limestone around 27,500 BCE.
"What I would like our visitors to leave is to understand how art history is history," said Christina Vassallo, executive director of Fabric Workshop and Museum. "It's a visual reflection of what's really going on in the world at that time. Ollie, the character, understands that his obsession with online notoriety and popularity truly has precedent in art history.
The show has the goofiness of a TV sitcom. The lines sometimes ring hollow and an inserted laugh track rattles the senses. It's intentional.
"The laugh track is there to annoy smart, art-loving people," Musson said. "They're so smart they don't want to be told when to laugh. It's something I really appreciate, but I know some people with certain dispositions will say, "Oh, Philistine." Fuck them.
Musson has a history of performance in his artistic practice. He was in the hip-hop group Plastic Little ("Technically I'm still in the band, it still exists although we haven't played a gig in years.") and rose to prominence in 2010 for "ART THOUGHTZ", a talking head YouTube video series in which he played a character named Hennessey Youngman criticizing the art world.
Musson said he gave up performing after ART THOUGHTZ, preferring instead to do work without putting himself in the center of attention. He briefly moved to New York, then returned to Philadelphia a few years ago. In 2014, one of his abstract paintings was acquired by the Philadelphia Museum of Art: "Trying to find our place in this light, light out in this place."
As "His Story" evolved during artist residency, he was brought back to playing a character. What he said started as a fledgling concept to revisit Hennessy Youngman "on a budget," eventually evolved into a different character, a different concept, and a fully realized visual world.
One of the Fabric Workshop and Museum's founding programs is its Artist Residency, where an artist is invited to experience the organization's manufacturing equipment and staff expertise to design and create something new.
The residency aims to encourage artists to take risks and evolve their work in an unexpected direction. Vassallo calls it the "FWM moment".
"We know that when artists experiment and collaborate with us, they come away looking at their work in a new light with a fresh perspective," she said. "We like to follow the evolution of this new perspective over time. This is the FWM moment: where are the experiences they had with us that appear later in their career? »
The three episodes of "His Story" make up the bulk of the Fabric Workshop exhibition, which also presents the film set. An animatronic Ollie puppet sits on a shabby sofa, activated by "smart" sensory triggers that can detect the number of visitors in the room and their movements. He is programmed to turn his head to watch people go by, occasionally offering sarcastic comments.
Behind the set is another gallery showing the process by which the fabric workshop made the various elements of the exhibition.
"Jayson Musson: His Art History" will be on view at the Fabric Workshop and Museum until November 13.