Sandhill Crane Watercolor Workshop on January 24 and more updates from the Nature Coast Art League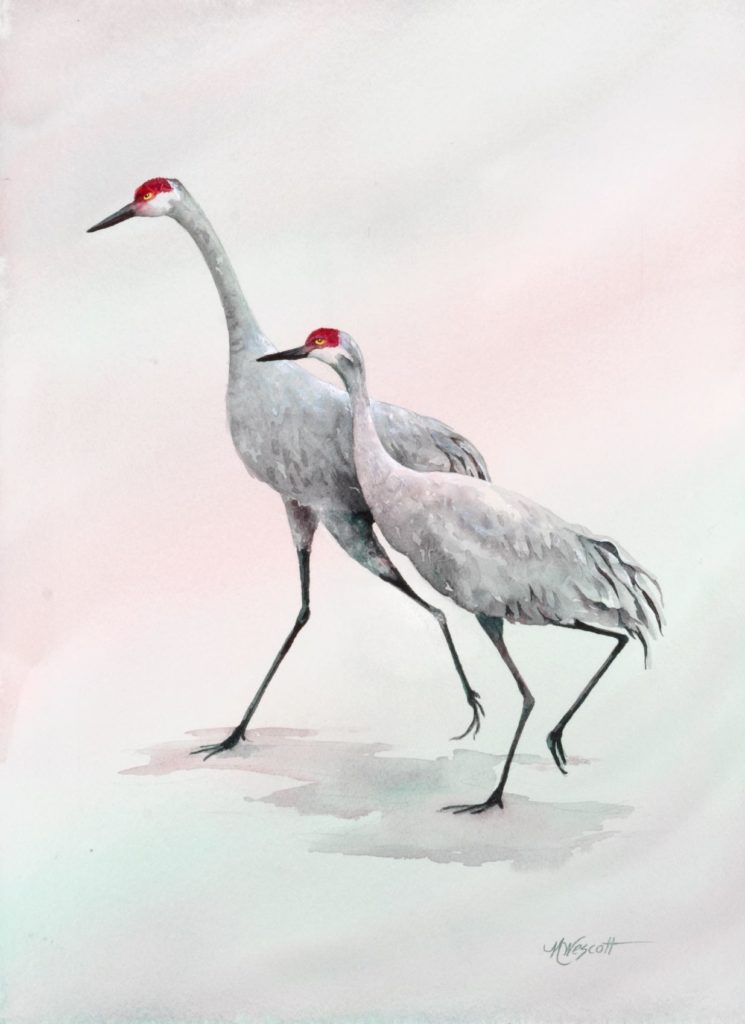 It's an artist's mind to work magic on a blank canvas and following a tough year, the Nature Coast Art League is doing just that. Their members rise like a watercolor phoenix from finely drawn ashes, doubling its membership of talented people who come together and create.
The mission of the Nature Coast Art League is to educate the public and promote the visual arts in Hernando County. "2021 has been a difficult year for all of us. As we enter a new year, I would like to reflect on some of the achievements we have made over the past year. Since the beginning of January 2021, our workforce has grown from 27 to 52 currently. Last winter during the pandemic there were times when we were forced to close our doors and when we were open very few attended 'Create Along'," the president wrote. of the NCAL, Linda Graves, in the January 2022 NCAL newsletter shared with us.
Yet over time, the league has weathered the storm. "Since vaccines have become more available, we've been seeing members come back to join us for our monthly meetings and 'Create Along.' Currently, we have an average of 13 people attending," Graves wrote.
And they have a new space to create their masterpieces. "We were fortunate to have a new location at People Helping People. We have extended our opening hours, have access to WiFi and a beautiful building. Diane Becker has been busy scheduling a full season of demos and workshops that I'm sure we'll all enjoy," Graves wrote.
On January 17, the league's first general membership meeting featured guest artist Marilyn Westcott, president of the West Pasco Art Guild. She demonstrated on "No Excuses Sketching" and will be offering a follow-up workshop on January 24 called "The Joy of the Limited Palette." The workshop, which will be held at 1396 Kass Circle, Spring Hill, will be a sandhill crane follow-up painting session using two colors. The cost to enter the workshop is $30 for members and $40 for non-members.
"I am so excited to share my passion for watercolors and my love of our beautiful Florida birds with the members of the Nature Coast Art League. The January 24 workshop will focus on painting one of the region's most popular sandhill cranes using just two colors," said Marilyn Westcott. "As President of the West Pasco Art Guild in New Port Richey, I am delighted that NCAL and WPAG are taking steps to collaborate to help people learn and grow in their own creative practice."
In addition, the league celebrates the achievements of two of its own. "Two of our members, Lyn Bechtel and Chuck Simmons, have been selected to exhibit their artwork in the Florida Watercolor Society's 2022 Online Salon. Please join me in congratulating them both! Shared graves.
Graves is looking forward to a prosperous season in the Nature Coast Art League. "We hope our league will continue to thrive as we add new ideas to inspire you. Please let us know what you might be interested in and ideas you would like to share. Wishing you all a very happy, healthy new year and creative," she said, completing her message to her members.
One-time NCAL membership is $30. Membership for couples is $40. Send a check to: Nature Coast Art League PO Box 6284 Spring Hill, FL 34611.
Related