Suicide prevention trainings teach how to help in a mental health crisis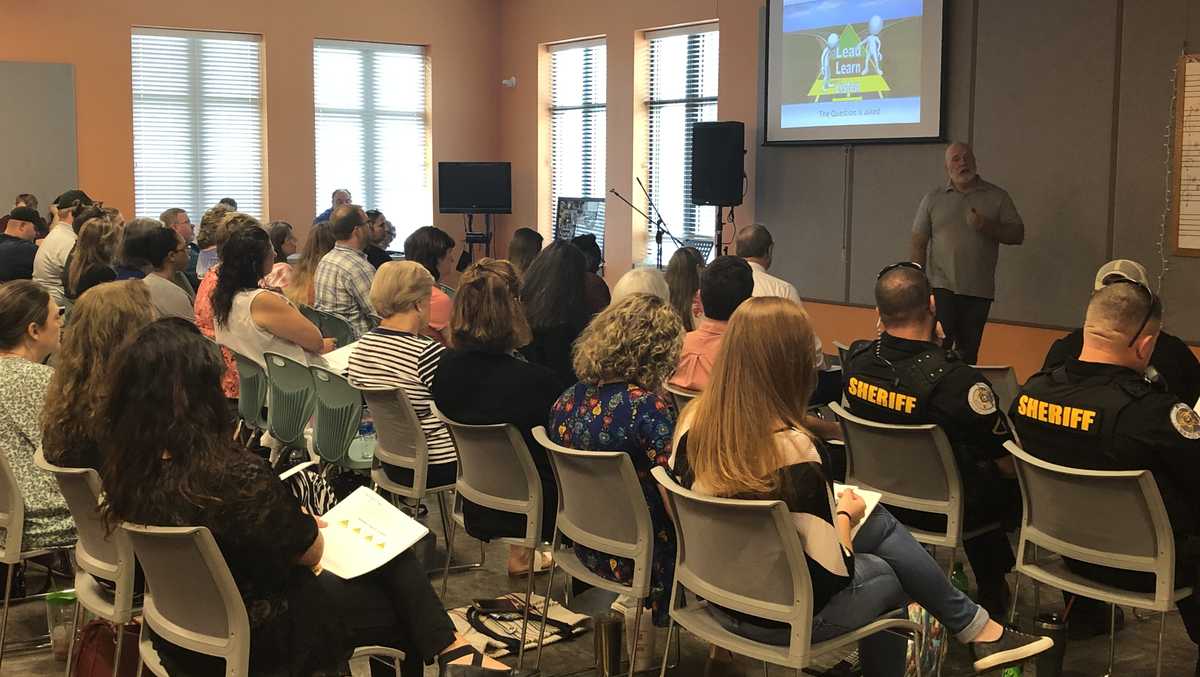 Upstate organizations held their third annual free multi-day training for National Suicide Prevention Week. . The first responders we call first responders are really second responders," said speaker Ken Koon, who founded Armed Forces Mission, a group focused on nationwide suicide prevention and response, "The Great thing about these workshops is that we train everyone and anyone who wants to learn the skills that they too can save a life. "Trainings have taken place in Anderson, Spartanburg, Greenville and Clemson." The reality is that it's a myth that someone at risk doesn't want to talk about. The people who have the hardest time talking about it are the people who could potentially help," Koon said, "They're driven by their own myth. that I might put the thought in their head, they might be offended, they don't want to be my friend if I ask them if they're having suicidal thoughts – and they're not at all. The person at risk, deep in their heart, wants you to ask. They need you to ask them. to hear what they have to say. You need to know why they are having these thoughts and definitely guide them in the direction they need to go to get help. Knox lost a friend to suicide. Carolina from September 10 to 13. have trained over 200 people in suicide prevention," said Patrick Elswick, President and CEO of the When Life Sucks Foundation. 8255When Life Sucks: http://www.whenlifesucks.org/Upstate Warrior Solution: https://upstatewarriorsolution.org/South Carolina Department of Mental Health: http://www.greenvillementalhealth.com/NAMI; National Alliance on Mental Illness: https://www.nami.org/Free Support 24/7 = Text NAMI to 741741
CLEMSON, South Carolina —
Upstate organizations held their third annual free multi-day training for National Suicide Prevention Week.
"I work with a lot of new responders. They'll tell you they're not the real first responders. The person who saw something happened there at the scene. The first responders we call first responders really are second responders," the speaker said. Ken Koon, who founded Armed Forces Mission, a nationwide suicide prevention and response group, "The great thing about these workshops is that we train everyone and everyone who want to learn the skills that they, too, can save a life."
Trainings were held in Anderson, Spartanburg, Greenville and Clemson.
"The reality is that it's a myth that someone at risk doesn't want to talk about it. The people who have the hardest time talking about it are the people who could potentially help," Koon said. "They're driven by their own myth that I might put the thought in their head, they might be offended, they don't want to be my friend anymore if I ask them if they're having suicidal thoughts – and that's not wrong. anyway person at risk, deep in her heart, she wants you to ask her, she needs you to ask her.
Koon trained local firefighters, police officers and others from all walks of life who might be the first to encounter someone struggling with suicidal thoughts.
Anderson County VA receptionist Hope Knox said, "You have to listen to what they have to say. You have to know why they're having these thoughts and definitely guide them in the direction they need to go to get some help." ugly." Knox lost a friend to suicide.
Groups such as Upstate Warrior Solution and When Life Sucks Foundation helped bring Koon to northern South Carolina Sept. 10-13.
Organizers tell WYFF4 that trainings weren't well attended three years ago – but now it's becoming an increasingly important topic to help break the stigma of mental illness.
"This week, we will have trained over 200 people in suicide prevention," said When Life Sucks Foundation President and CEO Patrick Elswick.
If you or someone you love is thinking about suicide, help is always available.
National Suicide Prevention Lifeline Call 1-800-273-8255
When Life Sucks: http://www.whenlifesucks.org/
Upstate Warrior Solution: https://upstatewarriorsolution.org/
South Carolina Department of Mental Health: http://www.greenvillementalhealth.com/
NAMI; National Alliance on Mental Illness: https://www.nami.org/
Free 24/7 support = text NAMI on 741741