Walking the Path Together hosts workshop focused on healing from domestic violence – The North Wind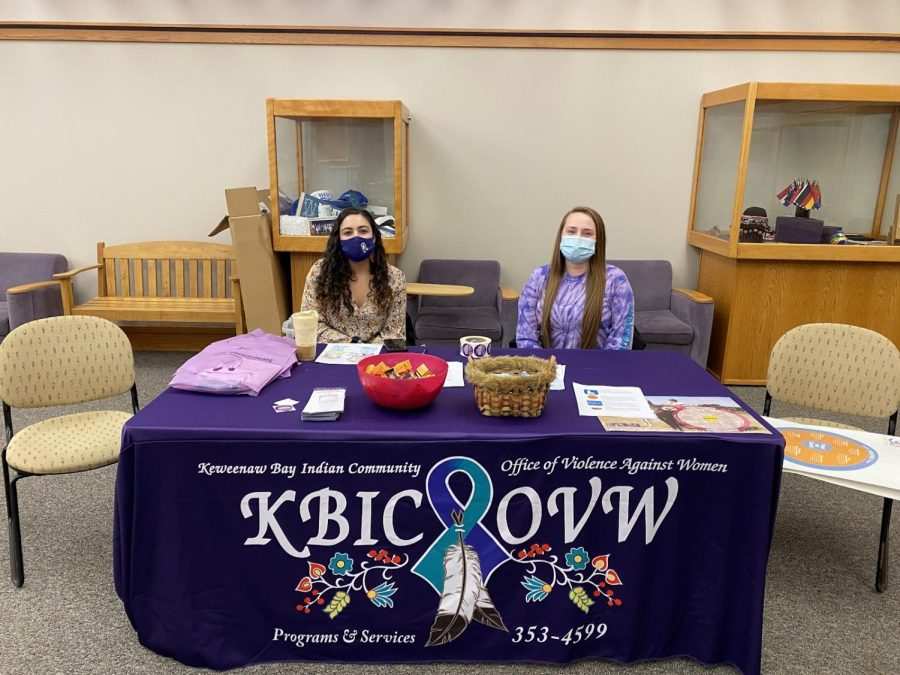 When attendees entered Whitman Hall on November 15, they found a group seated at a table, immersed in the words of a woman who found healing in forgiveness. Scattered across the table were books, a copper cup of water, and colorful medicine wheels, and she animatedly described each of the tools in front of her.
That woman is Vicki Dowd, a member of the Women's Advisory Council for the Hannahville Victim Services Program and was a speaker at the Domestic Violence Awareness and Wellness Workshop.
Mino-bimse'idiwag, or Walking the Path Together, a program of the Department of Social Work and the Center for Native American Studies that focuses on advancing the teaching of Native American studies and working with victims of crime in Indigenous communities, hosted the workshop in honor of Domestic Violence Awareness Month in October and Native American Heritage Month in November. The workshop consisted of three different sessions: storytelling and creativity, education and resources, and yoga.
Dowd led the storytelling and creativity session and shared stories about healing, physical and spiritual, through the Indigenous way of life.
"In my teachings, I need to tell people that it's okay to move on in our lives," said Dowd. "Leave him [the abuser] over there or leave that behind and move on.
Dowd found his way to recovery after his own experience of domestic violence while beading. Beadwork is a cultural tradition, an "aboriginal thing," said Dowd. Her homemade pearl necklace around her neck tells a story. The necklace pays homage to the lost indigenous peoples.
"I believe beadwork is the map of creation, the map of who we are," said Dowd. "It took me 10 years to realize who I was and I don't want it anymore. I want to be a better person.
Advocates from the Keweenaw Bay Indian community led the education and resource portion of the workshop. Carisa Lafernier and Ginger Shelifoe were seated at a table ready to answer questions about victim services or domestic violence awareness. The students were able to spin a wheel to ask themselves what they would do in certain situations. The wheel gives examples of red flags or situations that people may not have realized were abusive.
"There are people like me here who want to help you either get out of a situation or just talk about it to normalize it," said Shelifoe, a 2018 NMU graduate.
The third session was yoga focused on meditation as a healing medium, said Sierra Ayres, director of the Walking the Path Together program. It was produced by Brialle Ringer, a member of the community.
"She's a truly amazing wellness practitioner who focuses on issues of trauma and racial justice," Ayres said.
Walking the Path Together hosted the event to provide students with creative ways to talk about the issue of domestic violence in a way that it can be perpetuated in their own lives and relationships, Ayres said.
"We often do not know that there is domestic violence," said Ayres. "And we do not know how to fix it."
NMU currently has no specific resources for domestic violence or intimate violence or sexual assault partners, Walking the Path Together wanted the students to know that there are different resources and supports available to them on campus and in the community, said Ayres.
"I think if we can shed light on these issues and provide space for people to come, we can hopefully create more space for safety and healing in the future," Ayres said.