'Wearing the smile you gave me..' IAS officer Tina Dabi after her engagement to another officer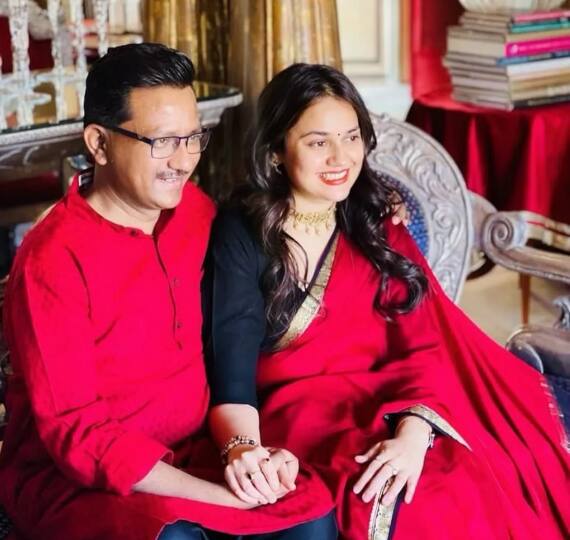 New Delhi: Indian Administrative Service (IAS) officer Tina Dabi, who came to light for being the first Dalit to win the prestigious civil service exam in 2016 on her first attempt, got engaged to IAS officer Pradeep Gawande.
Dabi shared the news of the engagement on social media on Monday. "I wear the smile you (PradeepGawande) gave me, engaged," Dabi wrote on Instagram, the photo-sharing app.
ALSO READ: SHO removed, 4 arrested in UP Muslim youth murder case for celebrating BJP victory
Dabi is active on social media and has amassed a huge following on the photo-sharing app with over 1.4 million subscribers so far.
Her fiancé Pradeep Gawande who is an IAS officer in 2013 also posted a photo with Tina where both are wearing red colored clothes. Tina wears a red saree as he complements her in a matching red kurta and pants. "Together is my favorite place!" he wrote in his Instagram post.
According to the livehindustan report, the couple are expected to get married on April 22 in Jaipur. Pradeep Gawande is three years older than Dabi and currently holds the post of Director of Archeology and Museums of Rajasthan, according to the report.
Dabi, a graduate of Lady Shri Ram College in Delhi, won the prestigious civil service exam while Athar Khan came second. Dabi was previously married to Khan. The couple caught the eye in 2016 when Tina announced their relationship via a social media post and have been in the news ever since. Athar Aamir Khan got the second position in the UPSC All India exam, which Tina Dabi overtook.
The two were married in April 2018 in Pahalgam, Kashmir, and the wedding reception in Delhi was attended by Vice President Venkaiah Naidu, Union Ministers and then Lok Sabha President Sumitra Mahajan.
However, both announced their separation in November 2020. Their divorce was finalized in August 2021 after an order from a court in Jaipur.